R&R(...&R): STATIONS, 2008
All gouache on archival digital print on Hahnemühle paper, 72 x 36 inches.
REVERIE: HERAT TREE 2008
Tree from A peasant lectures to the sage Abû-Sa-îd idn Abi-I-Khayr, the shayk of Mahneh, on patience, Qazwîn (Iran), 1758, Musée du Louvre, Paris
The tree is derived from Muhammadî of Herat's painting of a peasant lecturing on patience to a wise sheik. It stands vibrant, surrounded by rubble, promising new life through the nest of eggs that it shelters.
REFUFE: STORK NEST, 2008
Sources: Illustration to Makhzan-ül-Asrâr (Treasury of Secrets) of the Turkish poet Mevlânâ Heydar Mashad (Iran), c.1577-88, Sackler Gallery of Art, Washington, D.C.; Nabatiya, Lebanon photo by Mitchell Prother/WPN
REMIT: SADDAM'S PALACE, 2008
Foreground from Siyãrvush receives gifts from Afrãsiyãb's peace envoy in Shah Tahmãsp's Shãhnãmeh, attributed to Qadîmî, c. 1530, Tehran Museum of Contemporary Art
A garden gate opens to what remains of one of Saddam Hussein's destroyed palaces, derived from a 16th century illumination showing Siyãrvush receivings gifts from Afrãsiyãb's peace envoy, from Shah Tahmãsp's Shãhnãmeh. "Remit" can mean to cancel, restore, defer, pardon or reduce the intensity of something. Title and image evoke the failure and hope of diplomacy—and its absolute necessity.
RESOLUTE: HAWKS, 2008
Birds and rocks from Shah Tahmãsp's Shãhnãmeh, Farud confronts the Iranians attributed to Qadîmî, c. 1530–35, Tehran Museum of Contemporary Art
RESCIND: BIRD IN RUBBLE, 2008
Bird from illustration (added in Isfahân c.1609) by Habìbul Mashhad for Attâr's Parliament of Fowles, illustrated 1487–88 in Herât by Bihzâd, Metropolitan Museum of Art, New York; clouds from Bãrbad the concealed musician from Shah Tahmãsp's Shãhnãmeh attributed to Mirzã 'Ali, c.1535, The Nassir D. Khalili Collection of Islamic Art. Photo source: www.habeeb.com/beirut.war.lebanon.01.html
A bird struts before the rubble of Beirut, bombed in 2006 by the IDF. Painting and digital processes are deliberately confused with elements of Persian paintings faded or magnified by Photoshop and the elaborate cloud balancing on the bird's beak painted in gouache. It is the most physical, yet a mirage, a figment of our imagination.
REGENERATE: BIRD NEST, 2008
Source: Page from the manuscript of the Kitab al-Hayawan (Book of Animals) by al-Jahiz in the Biblioteca Ambrosiana, Milan depicting a brooding ostrich.
REASSURE: BEIRUT BIRDS, 2008
Birds from Kalila and Dimna of Baysonqur: The Owls and the Raven,1430, Library of the Topkapì Sarayì Museum, Istanbul
Detail, REASSURE: BEIRUT BIRDS
RELEASE: BIRD CAGE, 2008
Tree from The Son Who Mourned His Father: Page from a manuscript of the Mantiq al-Tayr (The Language of the Birds) of Farid al-Din cAttar, ca. 1487; Timurid, Iran (Herat), Opaque watercolor, ink, silver, and gold on paper,9.75 x 5.5 inches, Metropolitan Museum of Art, New York.
The source illustration is associated with a story related by the hoopoe as a response to a bird who complains about his fear of death. In the story, a son grieves the death of his father in front of his coffin and a sufi soothes him, explaining that his father had experienced much pain and that no one can avoid death.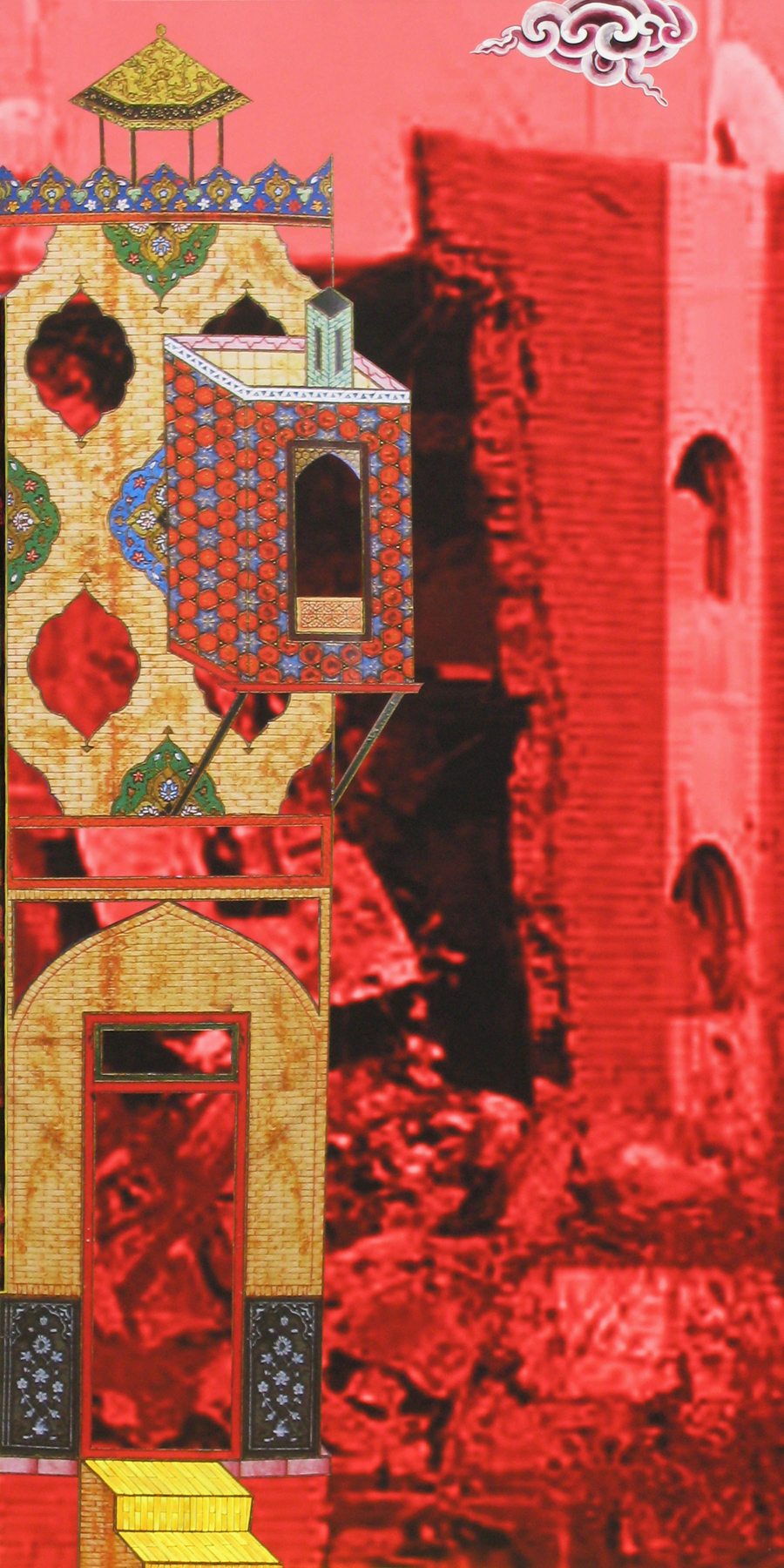 RECONSTRUCT: CANAL HOTEL, 2008
Architecture and cloud derived from the scene of Solomon and Bilqis Sit Together and Converse Frankly from the tragic romance of Salâmân and Absâl in Abdul-Rahman Jâmî's Haft Awrang (Seven Thrones) in the Mashad manuscript, 1556–65, Freer Gallery of Art, Washington, D.C.; AP photo source: Wally Santana, 2003/08/19 of Canal Hotel in Baghdad
The scene is the August 2003 wreckage of the Canal Hotel in Baghdad where, on August 19, 2003,at least 22 people, including the United Nations' Special Representative in Iraq, Sérgio Vieira de Mello, were killed and over 100 were wounded. The blast targeted the U.N. Assistance Mission created just five days earlier in the hotel that the U.N. has used as its headquarters in Iraq since the early 1990s. Superimposed motifs from Jâmî's allegorical romances and moral parables insist on beauty and civility in face of the worst human behavior.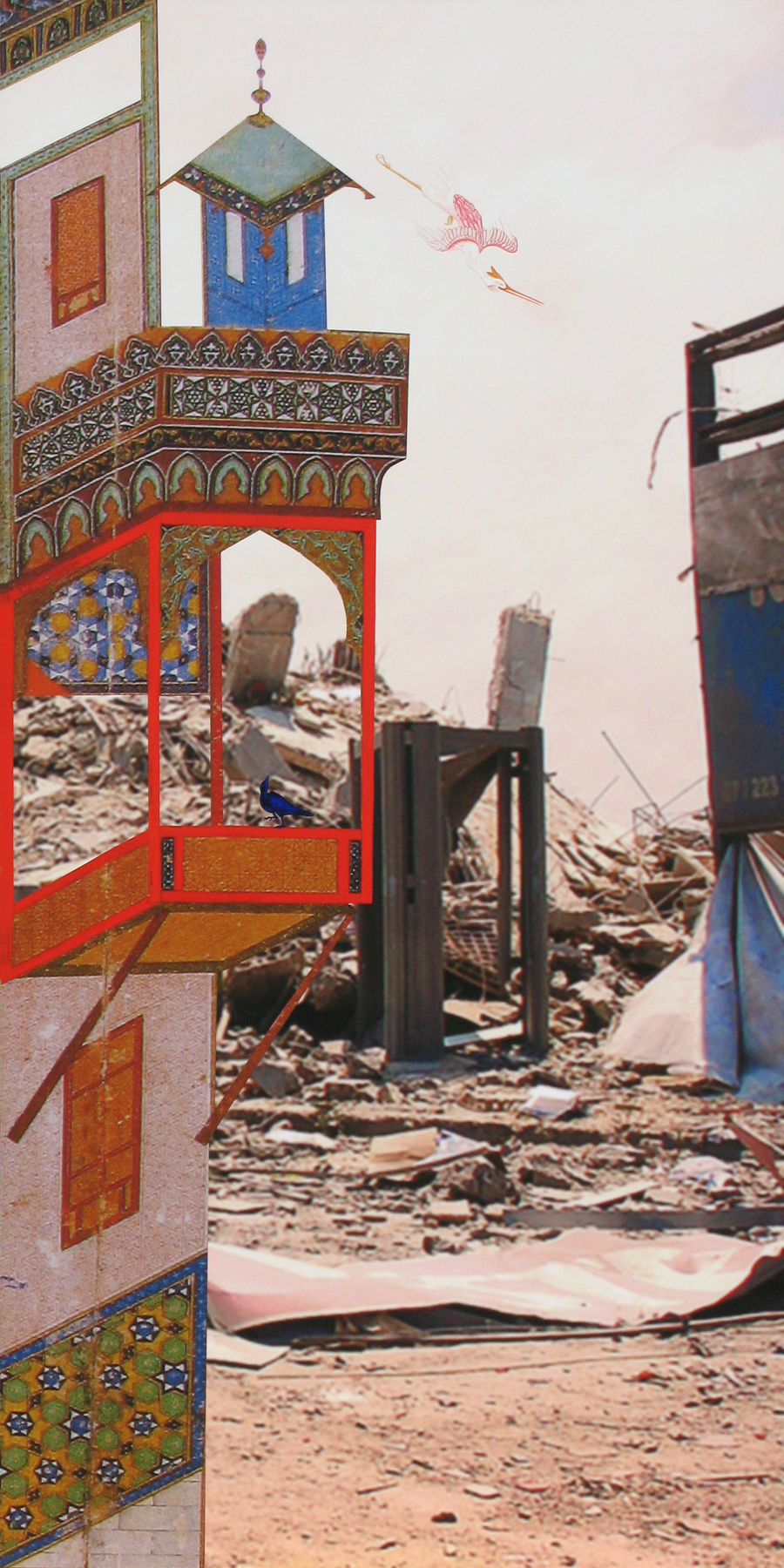 REVISIT: KHIYAM, 2008
Gate from The gatekeeper denies entrance by one unworthy of the garden in the Bustân by Mîrak or Bhizâd, 1488–89, National Egyptian Library, Cairo; Khiam, Lebanon photo: M. Asser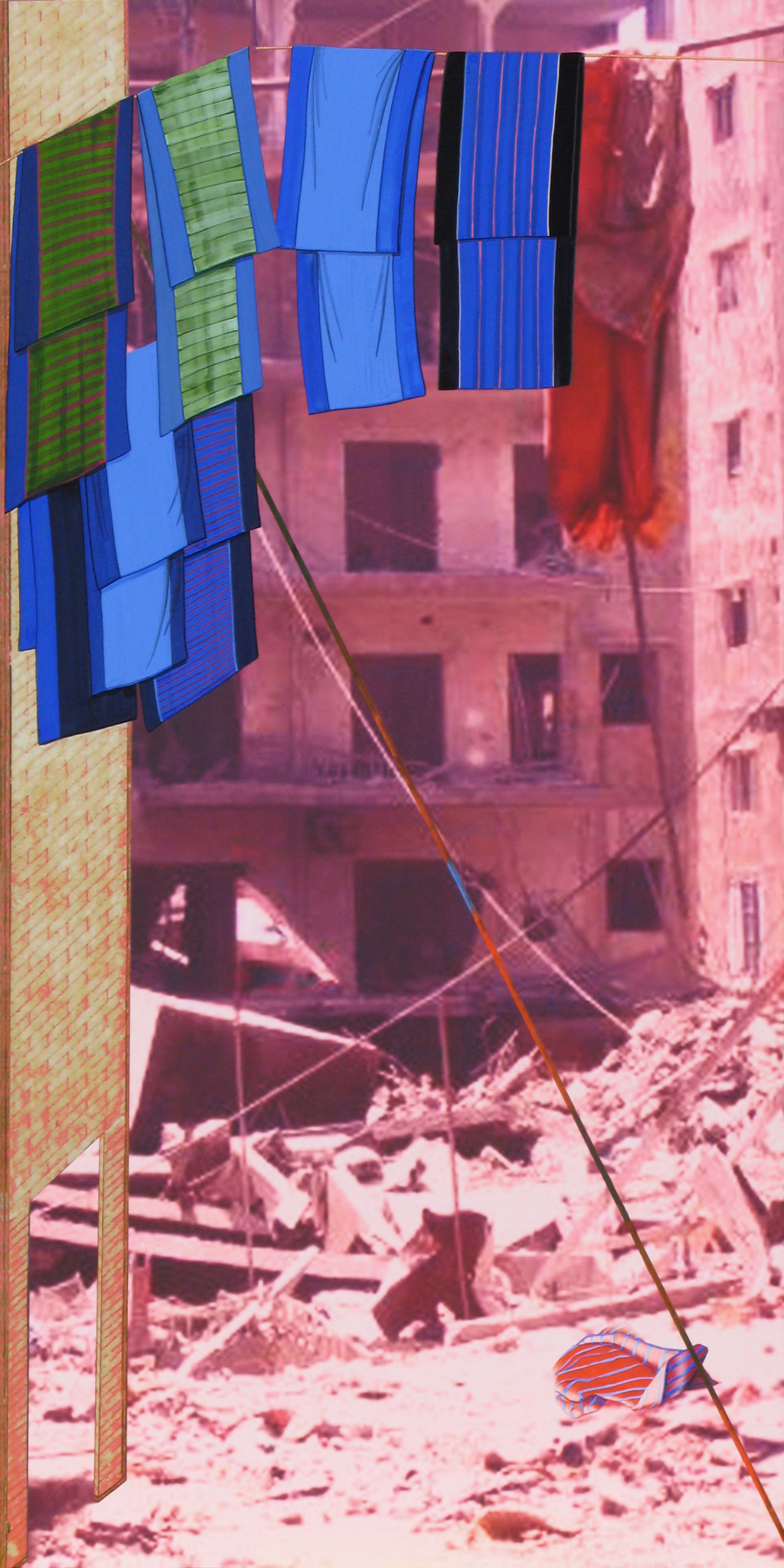 ROUTINE: LAUNDRY
Routine: Laundry: From Bihzâd's illustration, Caliph al-Ma'mûn in his bath for Nizâmi's Treasury of Secrets in the Khamseh, Herât, 1494–95, British Library, London; photo source: Webshots: dersteigen151, Lebanon
The laundry derived from Bihzâd's 15th c. illumination, Caliph al-Ma'mûn in his bath, hangs above a place in Lebanon devastated by war, reminding us of how, following trauma and catastrophe, the ordinariness of our daily lives becomes extraordinary.